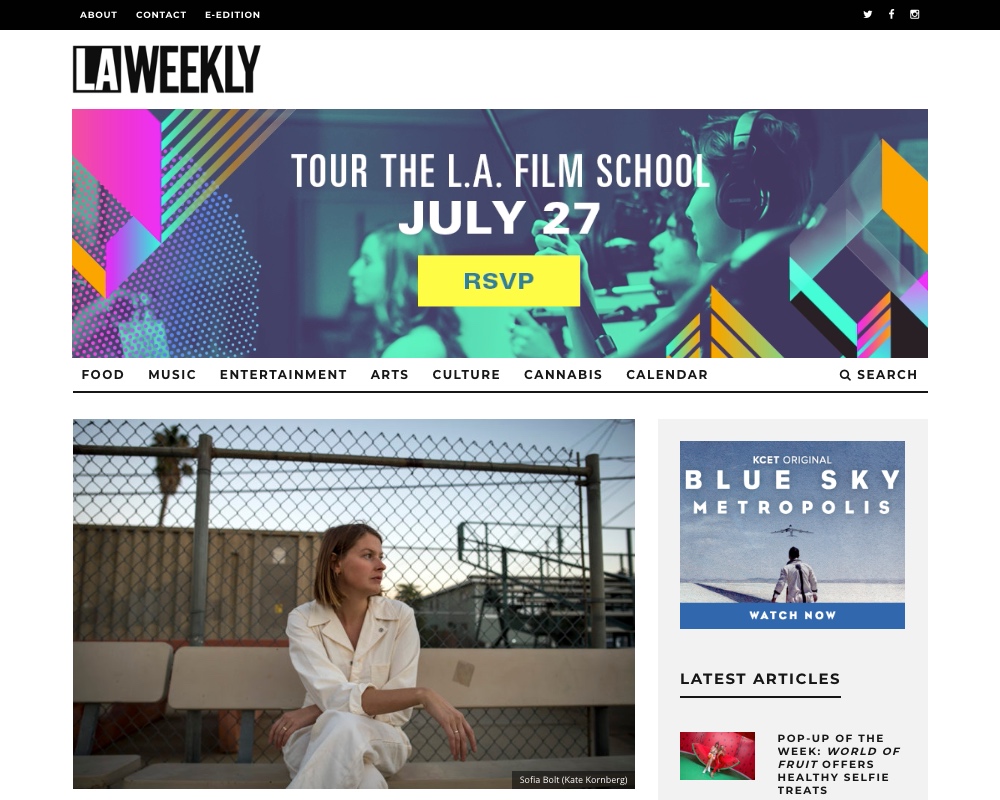 "Her sullen verses give way to a breezy chorus in which the Parisian native formerly known as Amelie Rousseaux lets her anger drift away with a purifying, cathartically carefree melody. It's a provocative introduction to a fascinating singer who relocated from France to Los Angeles two years ago."
"L.A.-based Parisian singer-songwriter Sofia Bolt (née Amélie Rousseaux) triumphed with her West Coast rock 'n' roll dreams on Monday, celebrating the release of her debut album, 'Waves."
Sofia Bolt - "Waves": July 2019
"French psychedelic pop singer's debut album Waves is out June 28th"
"The debut album… cuts deep with its tender-hearted, flowy garage-pop."
"Sofia Bolt is the recording project of Paris-born, L.A.-based guitarist/vocalist/songwriter Amelie Rousseaux. Waves, her debut, was recorded at Earth, Wind & Fire's Los Angeles studio. It features an arrangement by the legendary Van Dyke Parks, as well as a backing band of Emily Elhaj (Angel Olsen), Marian Lipino (La Luz), Bryant Fox (Miya Folick), and Itai Shapira (Rhye)."
"The warm-toned and lyrically honest songs on her debut album, Waves, reflect tidal changes: breaking up with her girlfriend and leaving Paris for surf life in Los Angeles."
"Parks calls Bolt a 'dazzling French talent arrived in L.A. in a bolt outta the blue. Brimming with music, and a promise of cross-cultural collisions … ready to take back what Lafayette left behind."
"Waves is at once casual and tightly constructed, with Rousseaux's pop melodies leaping and diving over a bed of guitars and roomy drums."
"Rousseaux began releasing music as Sofia Bolt in her native France, winning acclaim for her early EPs from Rolling Stone and Noisey."
"French psychedelic pop singer's debut album Waves is out June 28th"
"Her voice has a deep, mature quality to it that distinguishes her from many of her contemporaries."